To garnish with the quicklies the count of days in front of this bloggyland's social event of the season
(one better, THE YEAR!)
: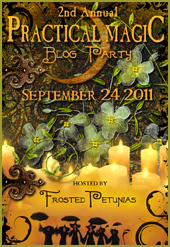 Excitement be my
constant companion!

And for those who yet haven't,
ticking tocks say it's not too late for you
to be part of the make merry.

Come, join

!
Merely do follows of these specifics:
Eat plentifuls of

chocolate cake for breakfast
,
then
broomstick
~
hurry up yourself over to the treater who couldn't be sweeter
,
to RSVP to a cornucopia over
~
brimming with Midnight Margarita madcapping!

(Clicking on the aloft Practical Magic Blog Party
invite will take you from here to a there!)
POSTSCCRIPT: Quite actually, the pre~"Say 'yes' to attendance" cake~eating is my interject, but it couldn't hurt, now, could it?! Lol!)