On bended blog~knee, a plenty humble pardons I do beg. Even so it be but a mere wiggle-worm after the calendar's circled day intended, I am nevertheless tardy sans excuses. A College Witch's Experiences (who has since bibbity-bobbity-booed into Confessions of a Couuntry Witch) merrily hosted an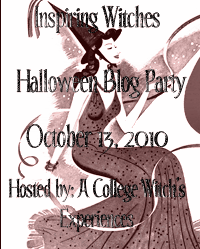 "Inspiring Witches Halloween Blog Party" on October 13 (one day x three ago = the wiggle-worm span). Presently, please do consider my late-to-the-table? I send lacey~hearted thank yous!

Ever and again --and consistently, too– it is the little things in life that this Cellar Door draws sweet inspiration from! A perfect illustration: the wee witch I did first encounter in one of my Mother's well-savored comics, saved back from her early years. With all my heart and soul and, in all likelihood, several select eyes of newt, I wanted to mirror the hocus-y pocus-y do~gooder that
Wendy the Good Little Witch was!
Her certainty to use her magic powers to do all things charitable only, would leave an impression of the most forever lasting kind on me. Miss Wendy, my rooftop let~loose remains uninterrupted: "Estimable" be thy middle name!

Latterly, she would be
realized
"
live
,"
top billing with friendly ghost friend (but and thus farly, not so "live"),
Casper, in the bewitching television movie,

Casper Meets Wendy,
over again and gently reminding me of where I needed to be.
HUZZAH! In the wave of a wand, Miss Wendy has grown up, and guesses be yours? She has flown her besom high plumb! My meaning: again inspiring and delighting, she has successfully navigated another air path yet! This go, it be the literary one called "Authoress":
(Look what found its way into my shopping basket, today, it did!)
O the courage and sugared inspiration "Wendy" unknowingly and constantly offers! Perhaps, then, my time be the nowly, too?! YES and YAY-HOO! I shall gather my inked snippets and coral my many savings of jottings~downs, and weave them together, because *sniff-sniffle* methinks I might finally be catching scent of a Cellar Door page-turner, bubbling in that shouldered caldron I call "topknot"!